Our family just got home from a two-week road trip to the west coast. We tried lots of new and fun things while we were away, but we all agree that the high point of our vacation was the 3-hour rafting trip we took with Black Canyon River Adventures.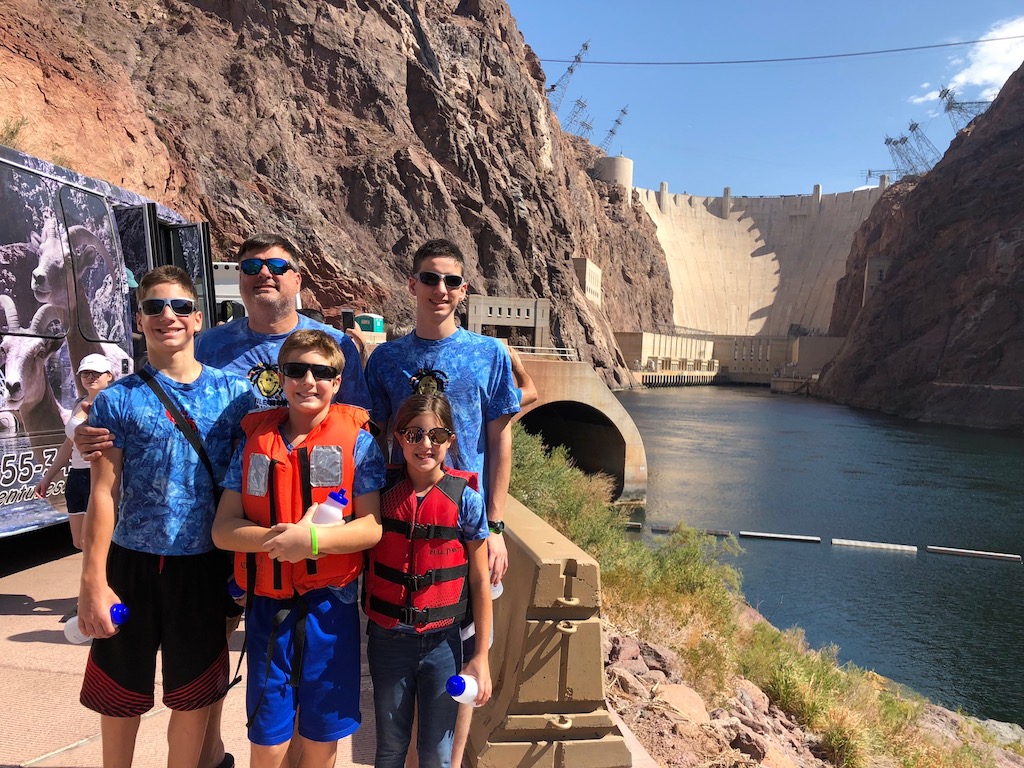 The trip began at the base of Hoover Dam, affording us some wonderful views of both the dam (which we later toured) and Bypass Bridge from restricted areas we would not otherwise have been allowed to access.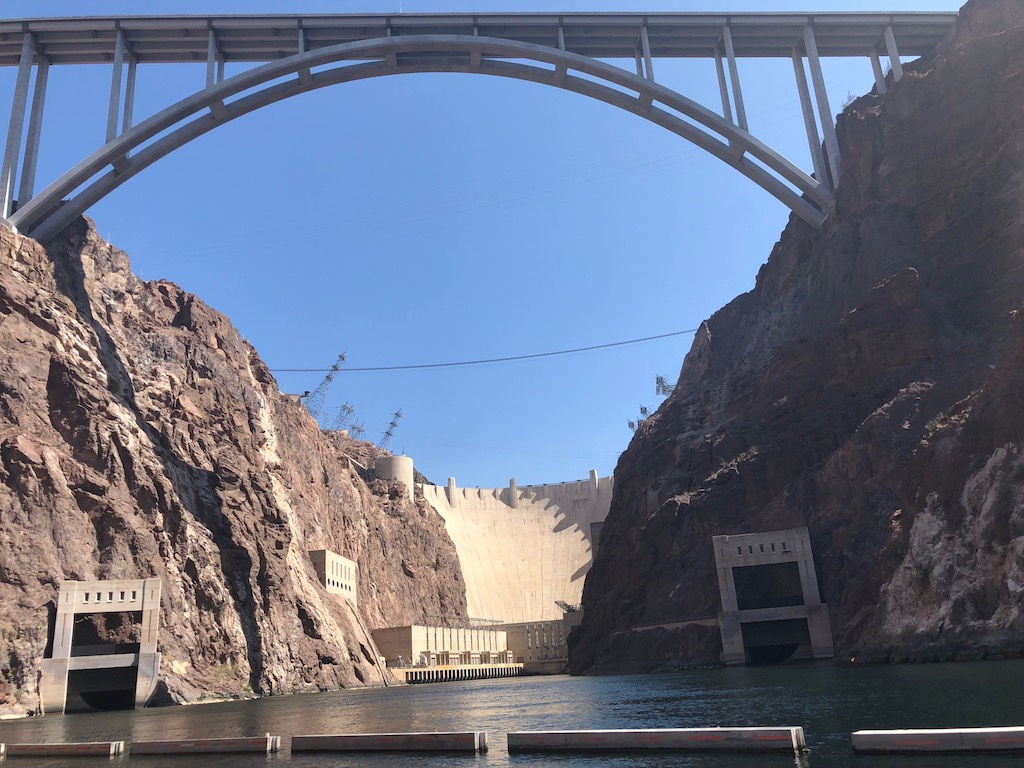 From there, we continued 12 miles down the Colorado River in the Black Canyon National Water Trail through smooth, crystal clear waters.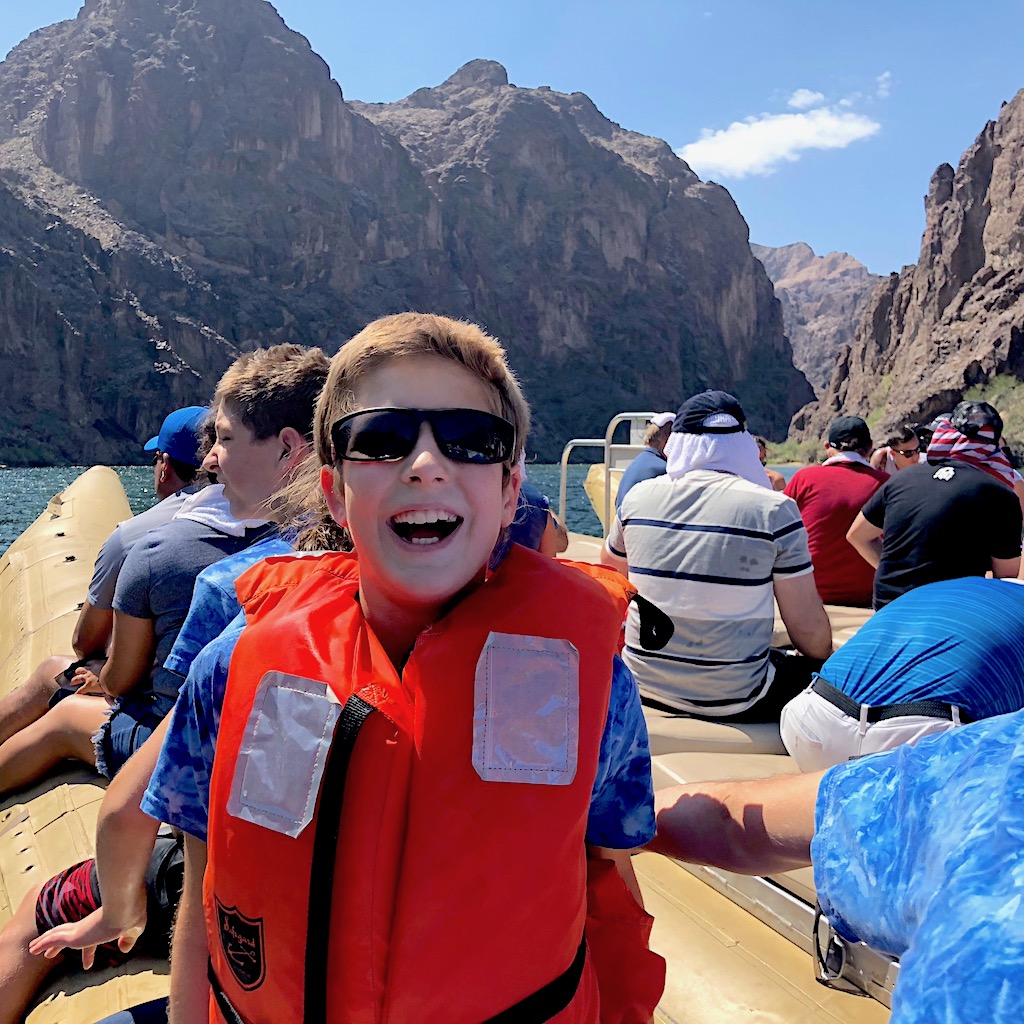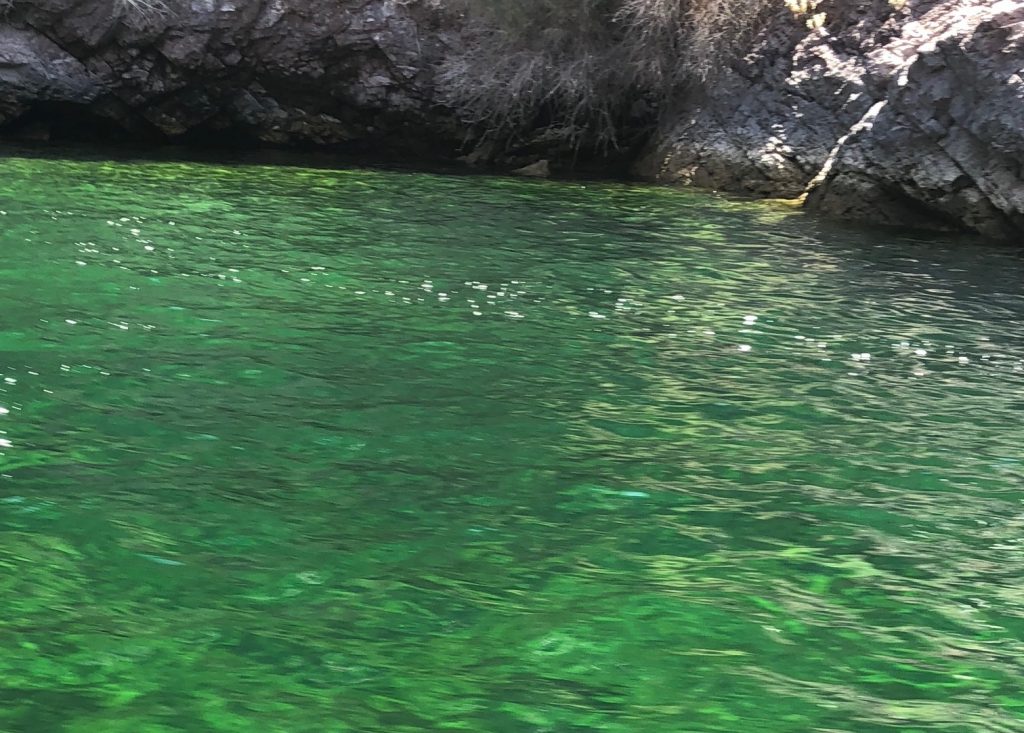 Although we technically traveled through some "white water rapids" toward the end of our tour, the ride never seemed the least bit treacherous (despite all the requisite waivers we had to sign to participate).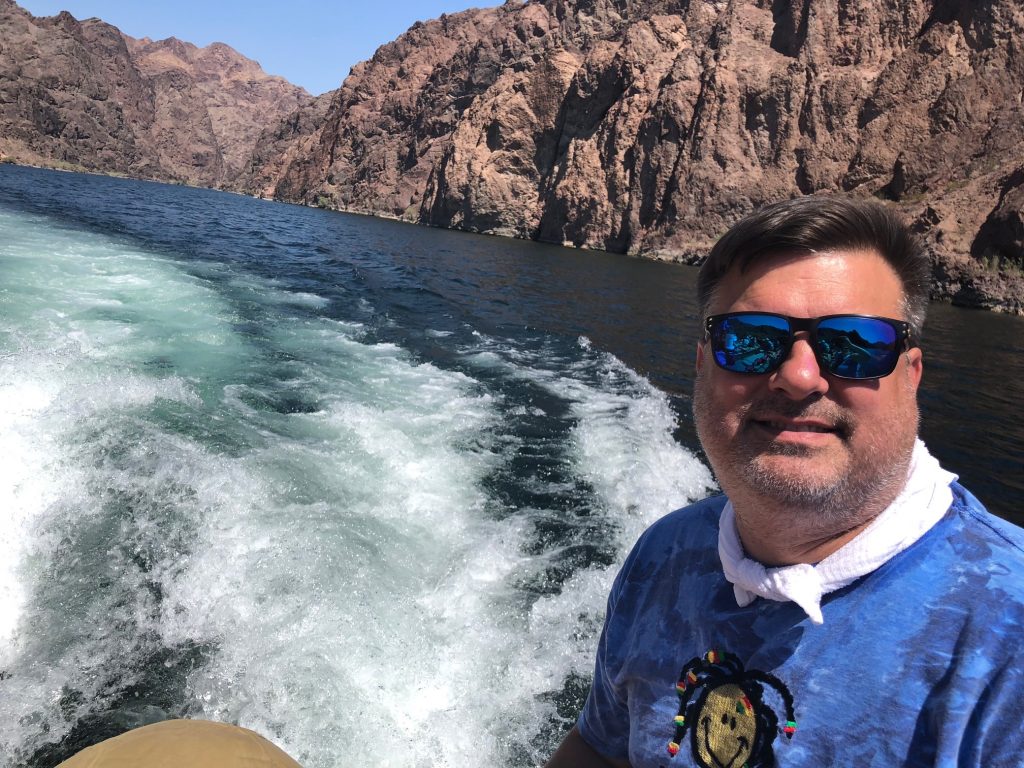 We saw some lovely waterfalls, hidden coves, and lots of wild life, including Desert Big Horn sheep, Great Blue Heron, a red tailed hawk, even a crayfish.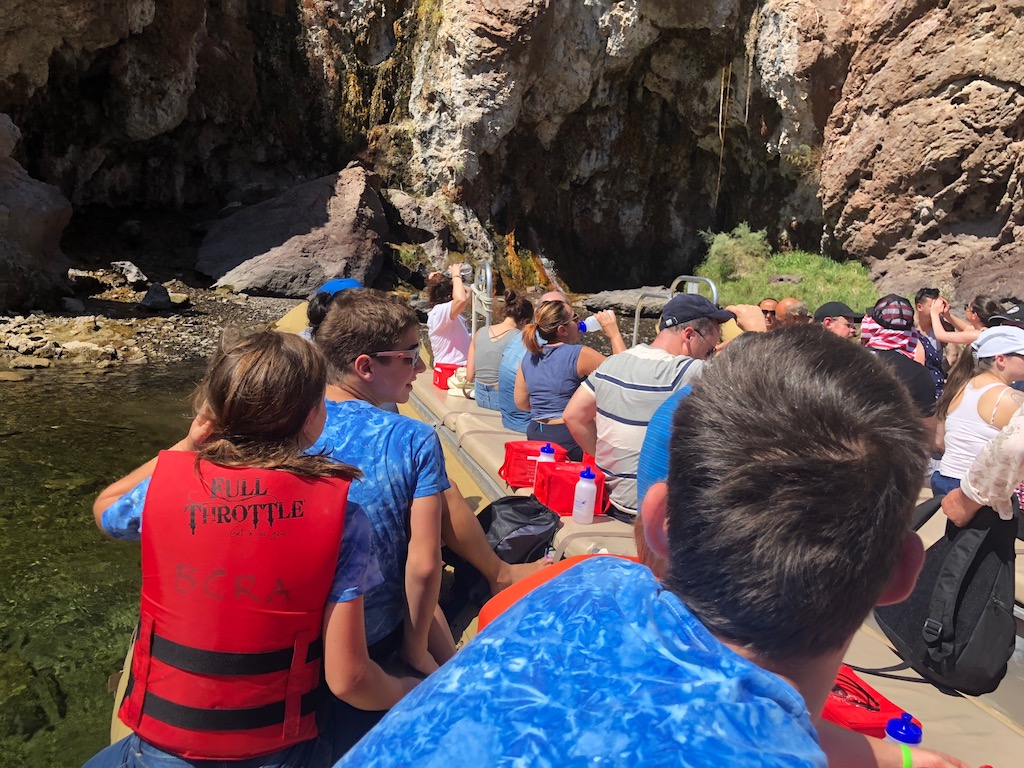 And we didn't just observe all these geological wonders from the raft. We docked a couple of times and got out of the boat long enough to touch the hot springs or stroll along a sandy beach.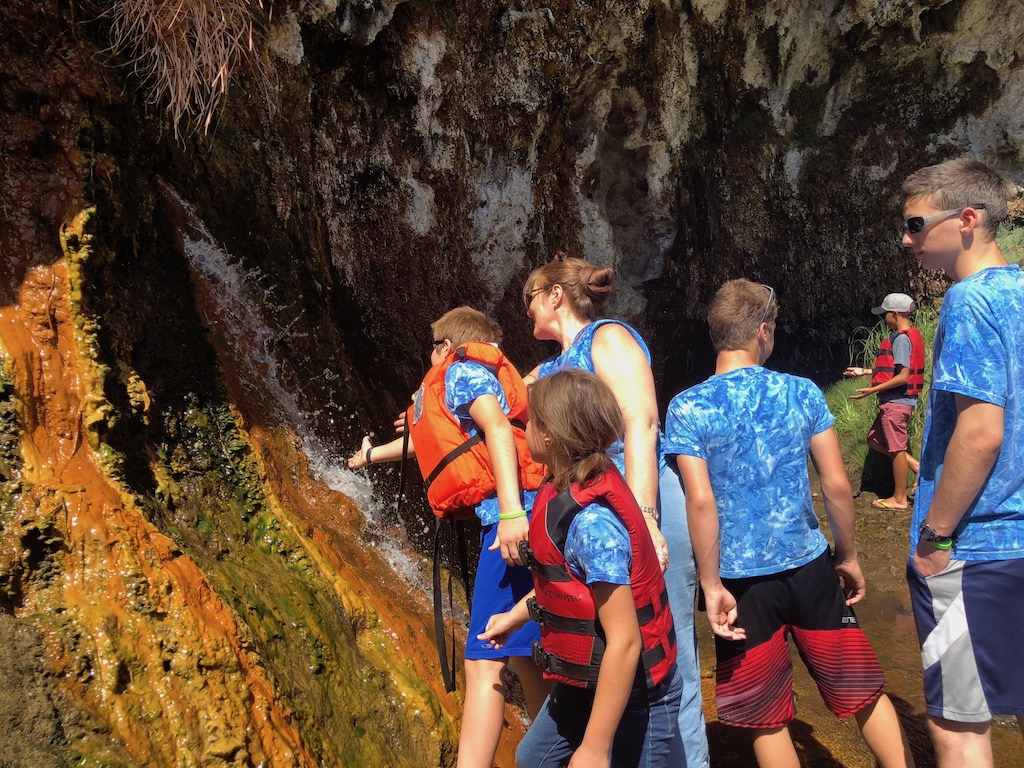 Leslie, our river guide, was a veritable fount of information. She's been giving these tours for 28 years, and we learned a lot from her about the history of the area and the construction of the dam in the three hours we were together.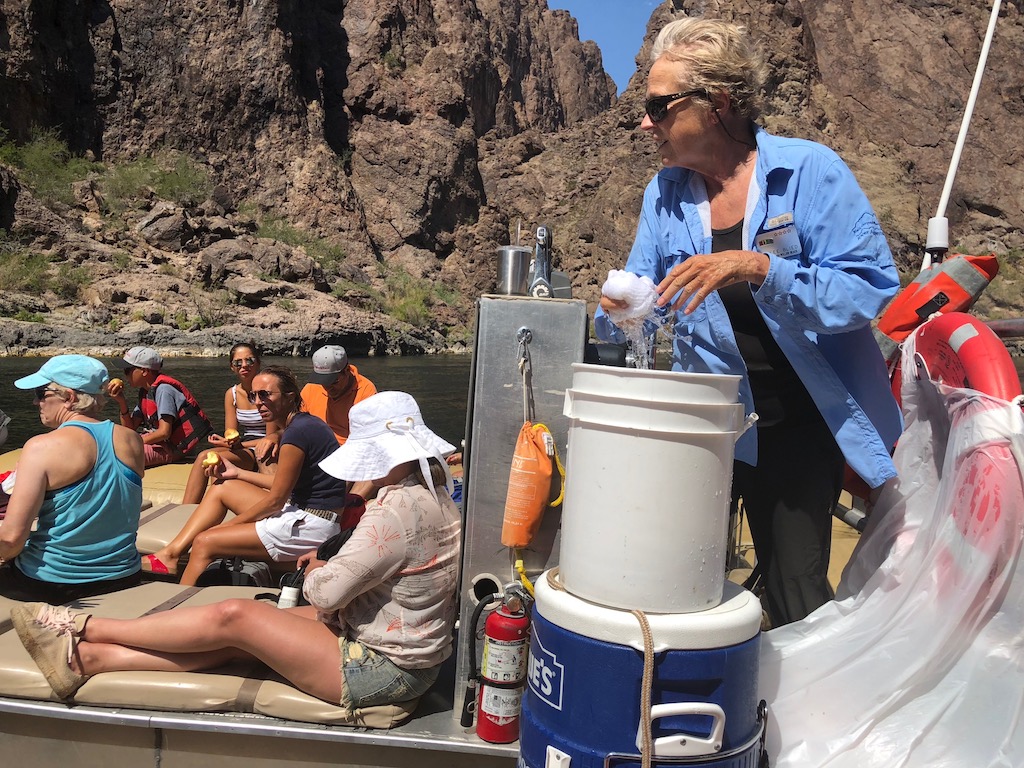 A delicious lunch was provided as part of the tour in a keepsake cooler with a re-useable water bottle. They even had vegetarian options for those who prefer to follow a plant-based diet.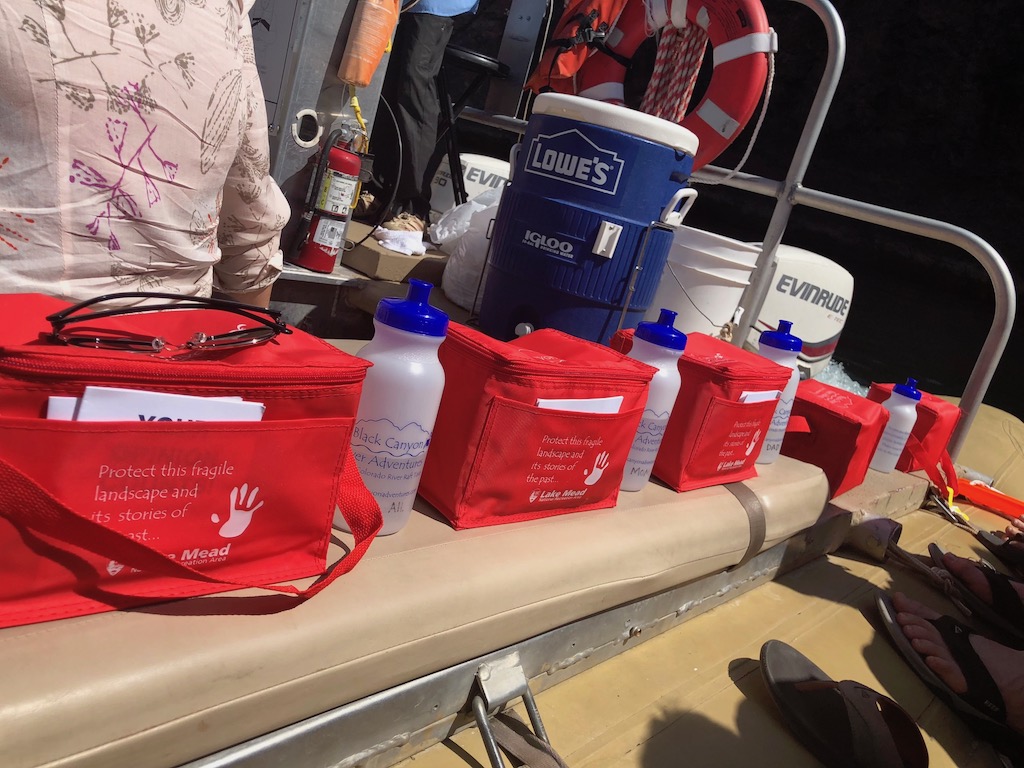 The meal was filling, and lots of ice cold water was available, as well, to keep us hydrated and feeling refreshed.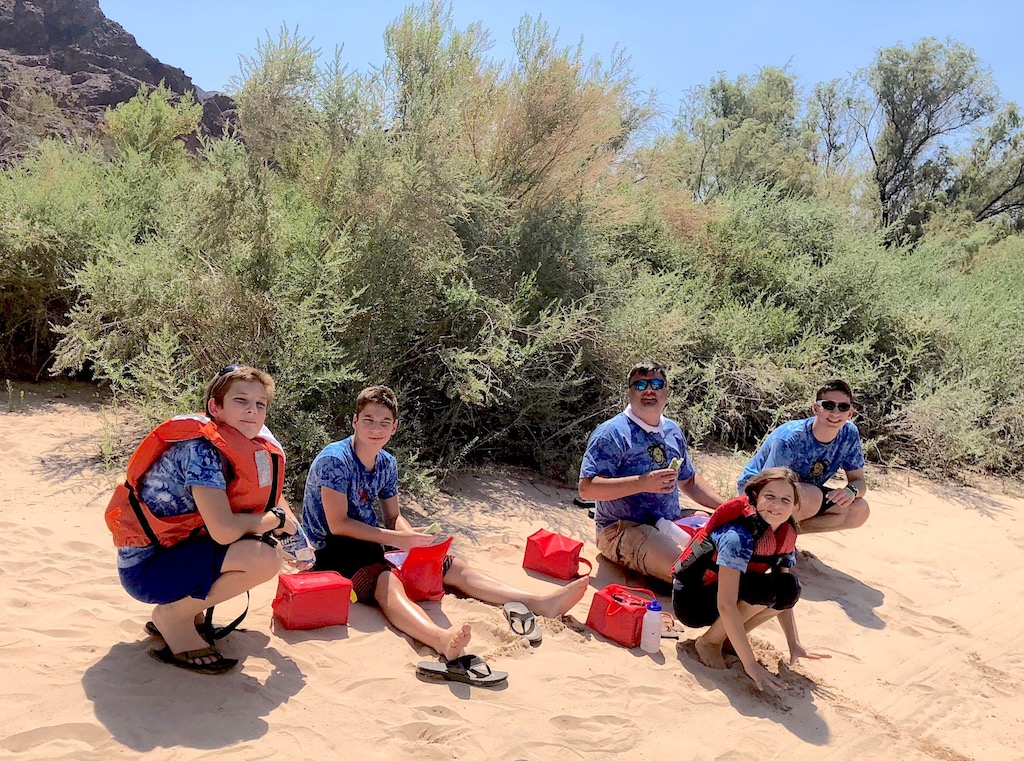 There was time after lunch for splashing in the river. I wish we'd thought to bring our swimsuits, as some of our fellow passengers did.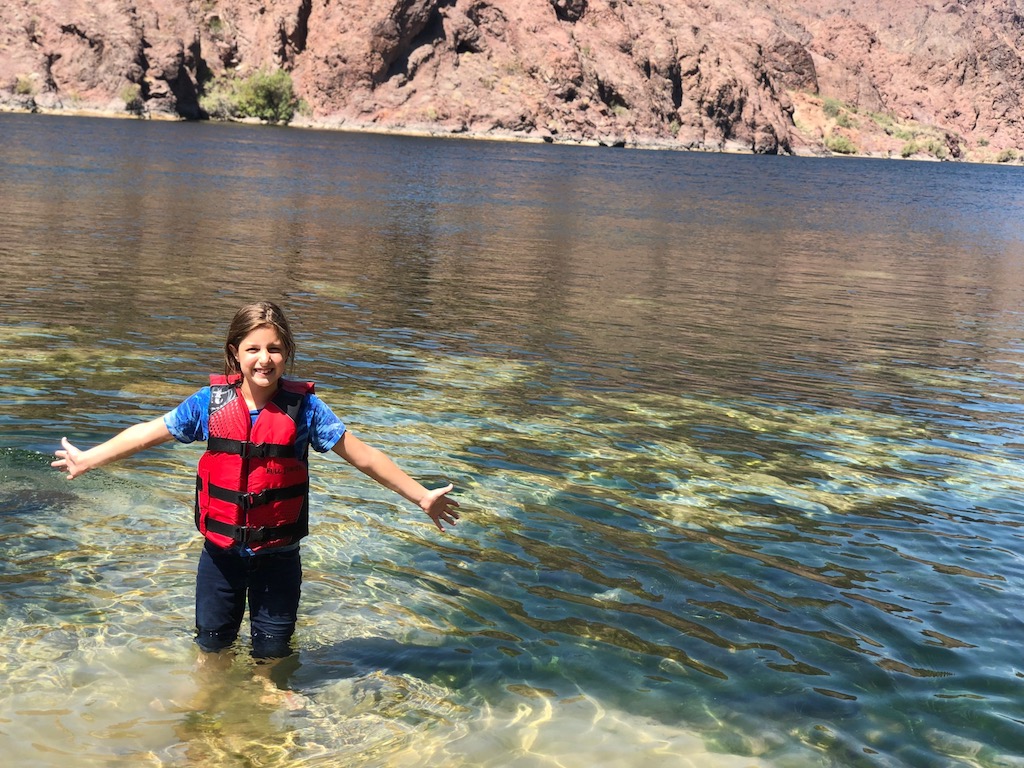 In the end we opted to wade in fully clothed. The sun was warm and our clothes dried quickly once we were back in the boat.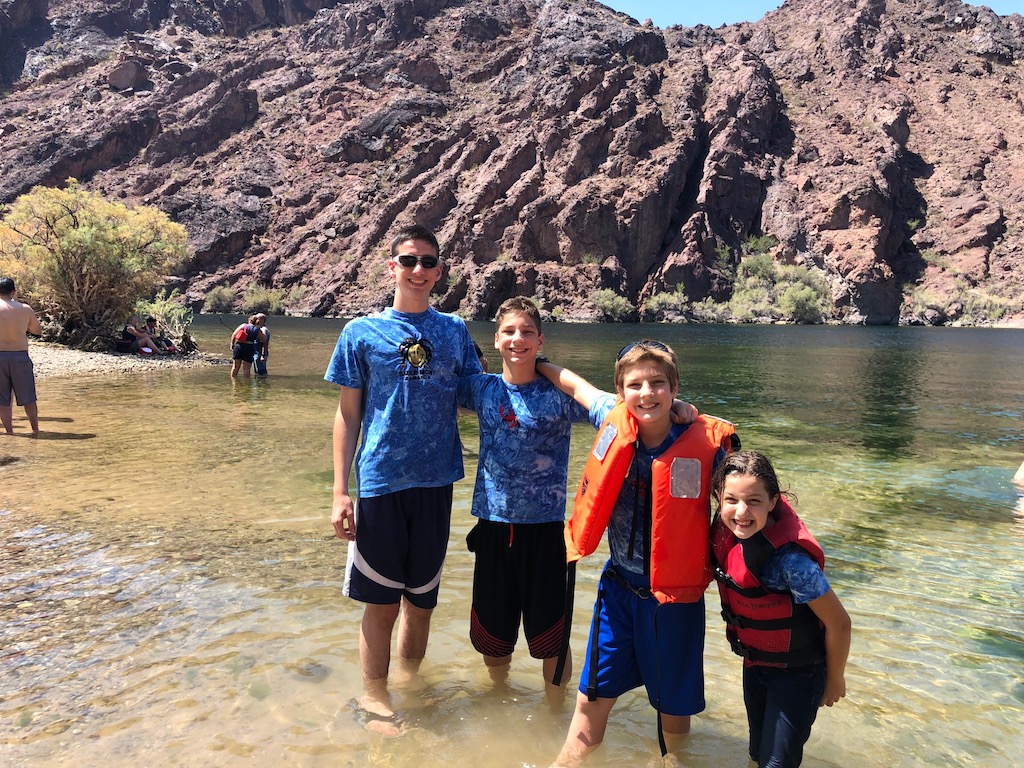 In addition to swimwear, I'd recommend wearing sunglasses, a hat, and some good sunscreen (Doug found me some that was 100SPF. I didn't get the least bit burned, despite spending the hottest part of the day outside in direct sunlight).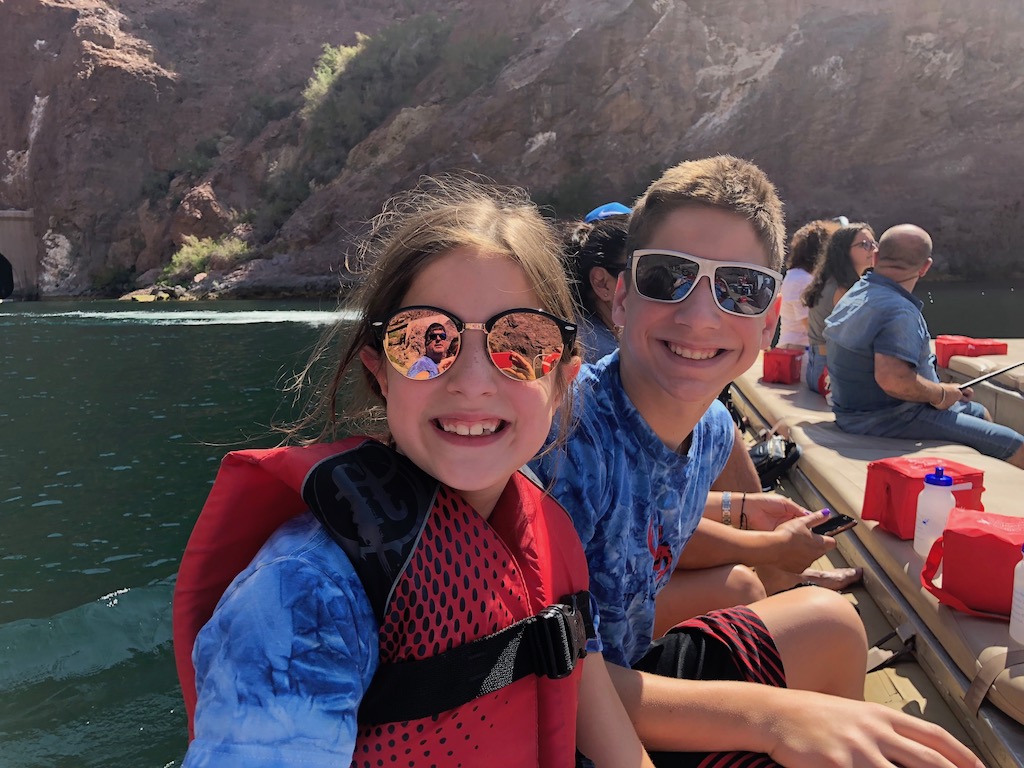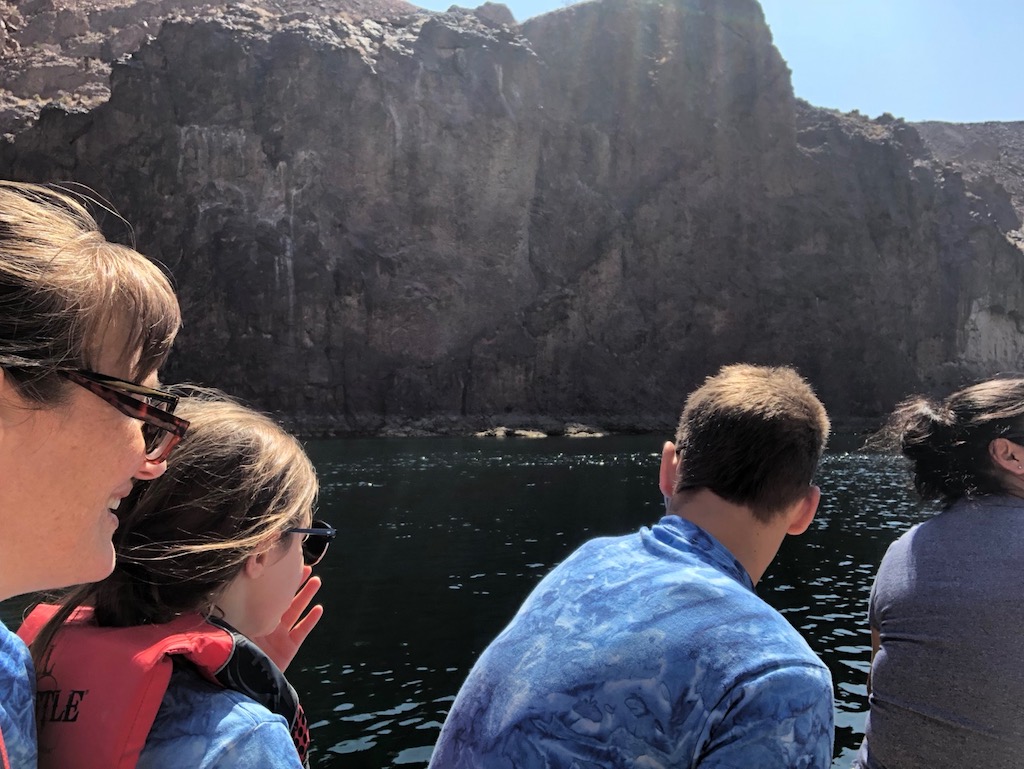 You'll also want to bring shoes that you don't mind getting wet — preferably a style you can slip off easily. It's fun (and encouraged) to straddle the side of the raft and drag one foot in the water.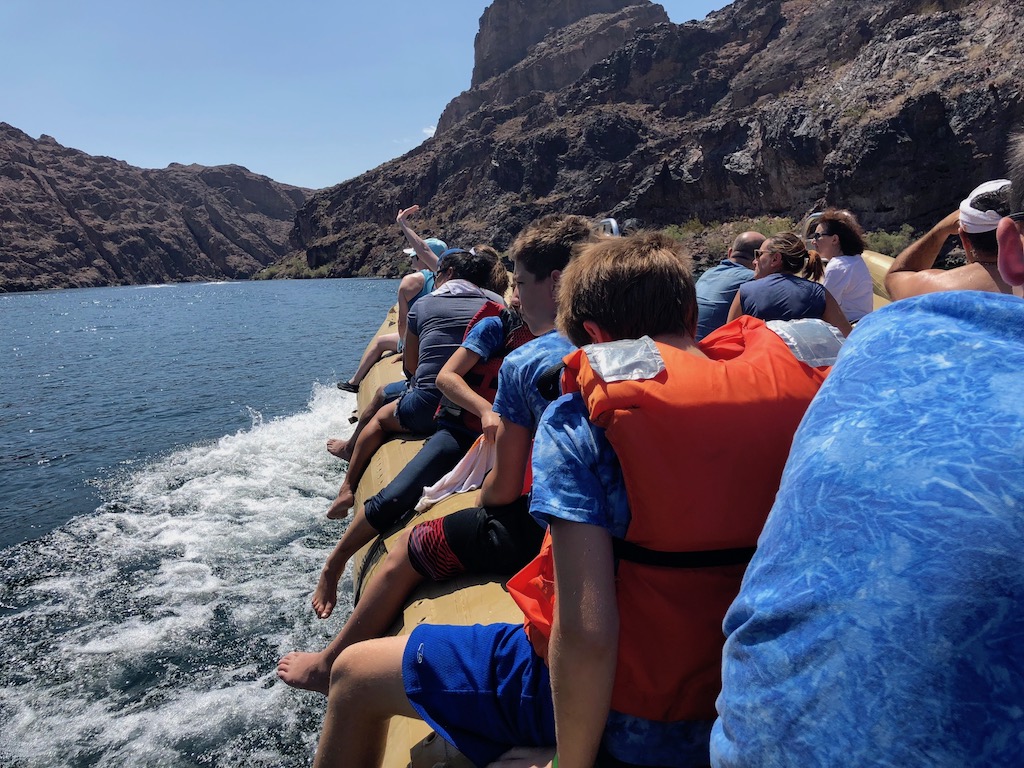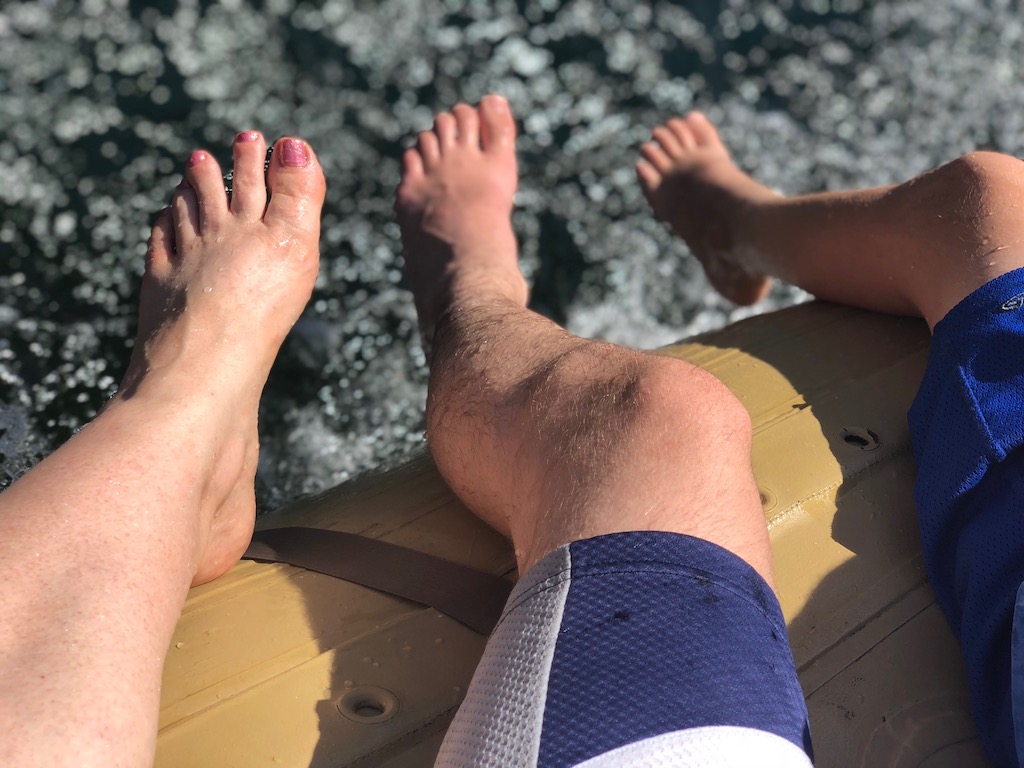 And don't forget your camera, either. Shutterbugs will be rewarded with lots of great shots of the canyon and the wildlife that inhabits it.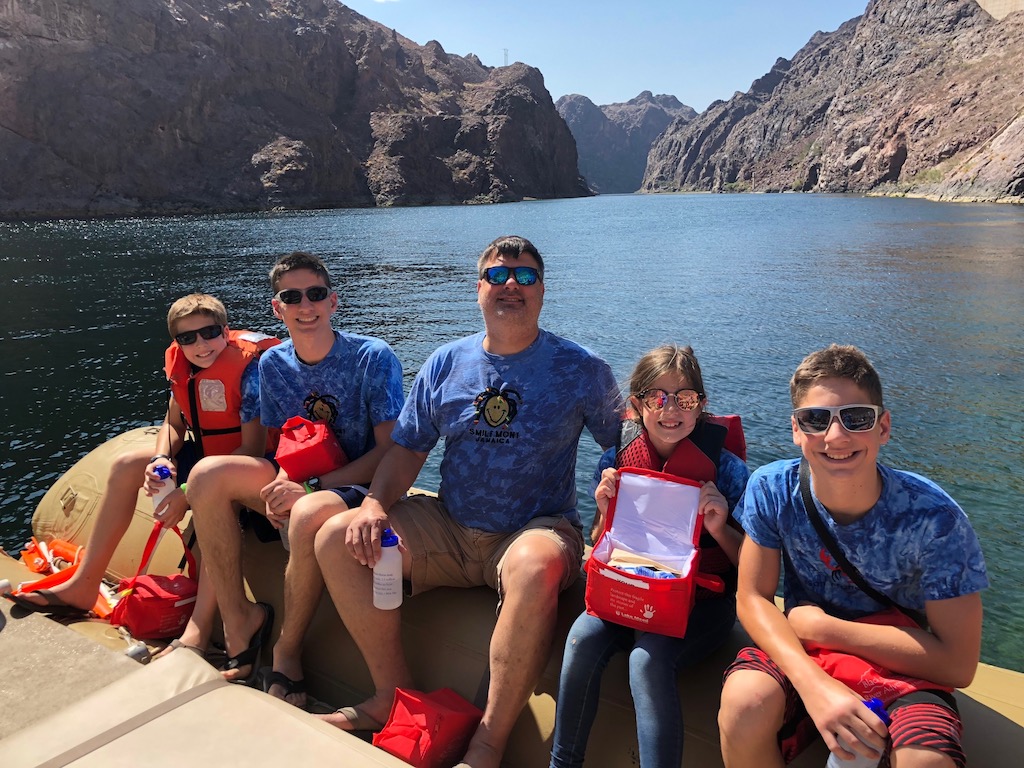 Alternatively, you can just lie back and soak up some rays. The tour guide will even provide a cool rag for your neck or head to help you stay cold.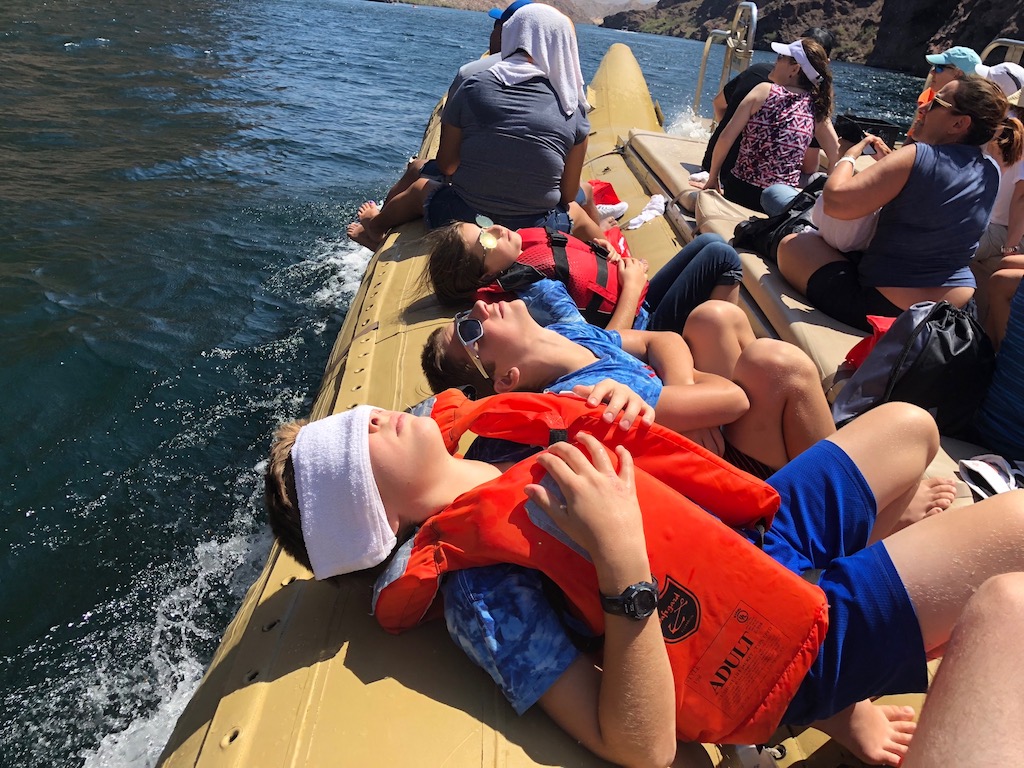 The river tour ultimately deposited us at the Willow Beach Marina, where vans were waiting to drive us back up to our starting point.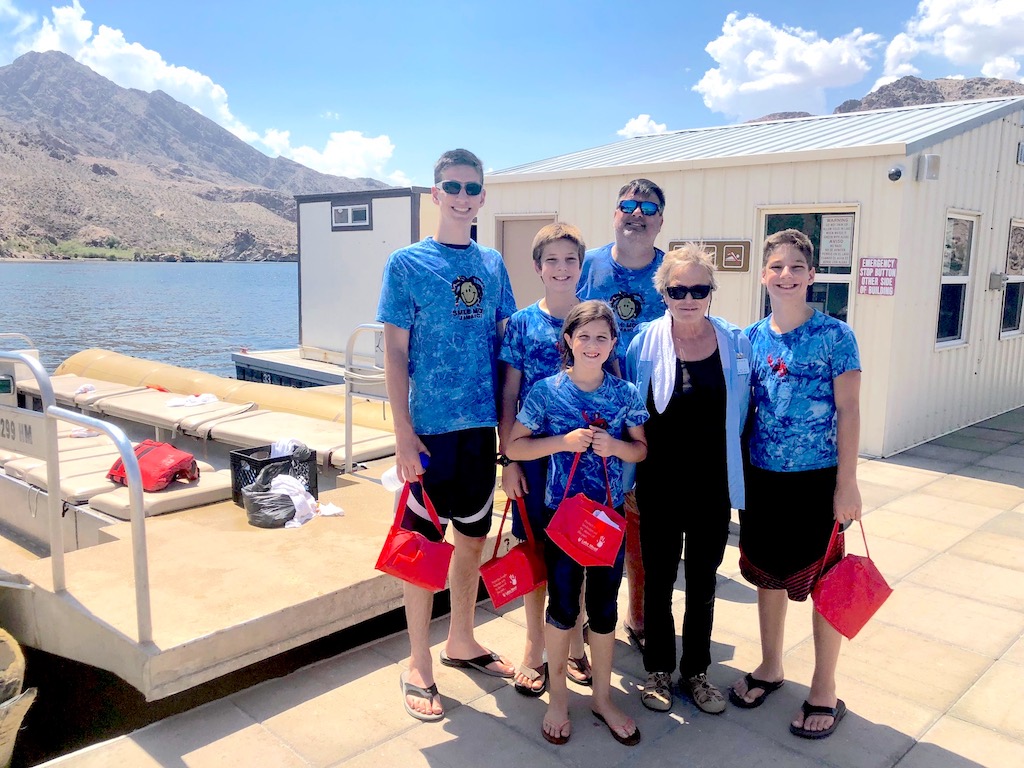 We thoroughly enjoyed the time we spent on our Black Canyon River Adventure. It was a fun experience for the whole family!
Please note: My husband and I were allowed to take this tour for free as part of a US Family Guide blogger promotion, but we paid full fare for our kids to join us. The experience was worth every penny!